Posts Tagged 'art in shapes'

Mixed Media Arts is offering the full set of
TEN Mixed Media Art Technique sheets,
available for immediate download.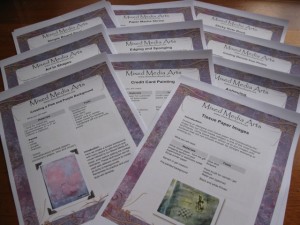 Each of these techniques, skills and projects contained detailed, easy to read instructions, each accompanied with colour photos. You can print them out and have them at hand as you go through each project step-by-step, adding to your mixed media art skills and giving you the confidence to explore the world of mixed media.
$19.97
Available for immediate download!
The full set of Technique Sheets includes over 50 pages of instructions and photos:
Create a beautiful purple painted background
Brush up on your credit-card painting technique
Try antiquing in your next project
Learn the basics of bookmaking with this sticky note book
Use a range of different shaped artwork to expand your creativity
Make your own stencils
Add some edging and sponging to your collages
Create your own simple bound book
Create a paper mache shrine to show off your embellishments
Use tissue paper images in your mixed media collages
Each of these Project Mixed Media Art Technique sheets contains step-by-step instructions to complete the project.
| Simple Bound Book | Sticky Note Book |
| --- | --- |
| | |
| $2.97 | $2.97 |
| | |
| Making your own books adds dimension to your mixed media art techniques. You can choose your own size, colours and types of papers. This method of binding a book is simple and can be easily adapted for many uses. | This little book makes a great gift and teaches the basic bookmaking skills, so once you have mastered this size, you can go on to make any size you like. |
~*~*~*~*~*~*~*~*~*~*~*~*~*~*~*~*~*~*~*~*~*~*~*~
| Paper Mache Shrine | Art In Shapes |
| --- | --- |
| | |
| $2.97 | $2.97 |
| | |
| For mixed media art, Shrines can be used to bring some of the ephemera out of the boxes and drawers and help us tell a story through our artwork. By making your own from chipboard gives you the ability to make it any size (or shape). | By doing something as simple as changing the size of the piece we are creating, our minds are forced to rethink the way we would usually arrange elements in our layout. Here we look at a range of "Standard" shapes and sizes that commonly appear in swaps and challenges, across the Internet and with local crafting groups. |