Posts Tagged 'painted backgrounds'

Mixed Media Arts is offering the full set of
TEN Mixed Media Art Technique sheets,
available for immediate download.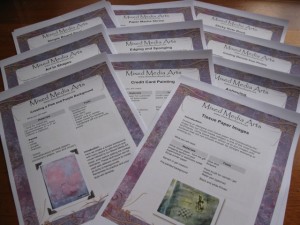 Each of these techniques, skills and projects contained detailed, easy to read instructions, each accompanied with colour photos. You can print them out and have them at hand as you go through each project step-by-step, adding to your mixed media art skills and giving you the confidence to explore the world of mixed media.
$19.97
Available for immediate download!
The full set of Technique Sheets includes over 50 pages of instructions and photos:
Create a beautiful purple painted background
Brush up on your credit-card painting technique
Try antiquing in your next project
Learn the basics of bookmaking with this sticky note book
Use a range of different shaped artwork to expand your creativity
Make your own stencils
Add some edging and sponging to your collages
Create your own simple bound book
Create a paper mache shrine to show off your embellishments
Use tissue paper images in your mixed media collages
This is where our fingers begin to get messy! Each of these techniques offers a new perspective on adding colour to our mixed media art,
Pink & Purple Painted
Background

Credit Card Painting

Stencils from Photos

$2.97

$2.97

$2.97




Here we create a simple background with many layers to add texture and visual interest to our Mixed Media Art piece, even before adding the collage elements. These techniques can be used with different colours to create all sorts of backgrounds.




The credit card painting technique is great for getting colour onto lots of paper fairly quickly, which makes it an ideal technique for large swaps or large journal pages.

Creating your own stencils is an easy way to add shapes and patterns across your artwork, and gives you control over your creating process and originality. If drawing a picture to make your own stencil is a little scary, then here is a method that removes the need to do any drawing.